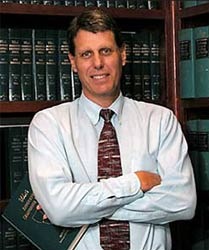 John P. Stennett, Attorney at Law
John ("Jack") Stennett received his Doctorate in Law from U.C. Hastings College of the Law in 1976. He is a recipient of the Outstanding Trial Lawyer Award from the San Diego Trial Lawyers Association. Over the last several years Martindale-Hubbell has noted Mr. Stennett AV Preeminent with a 5 out of 5 peer review rating and San Diego Magazine has designated Mr. Stennett as a "Top Lawyer."
Jack Stennett has been litigating ERISA cases since 1989 and personal injury and bad faith cases since receiving his license in 1976. He has successfully litigated cases against almost every major insurance company in both state and federal courts. Having played intercollegiate sports (basketball), Mr. Stennett is competitive by nature which shows in his tenacious representation of his clients.
Mr. Stennett grew up in San Diego and has strong ties to the community. His father was a prominent local attorney (now retired) who counseled his son that the most important traits in successfully representing his clients are hard work, honesty, and attention to detail. These are the traits Mr. Stennett brings to the table for each of his clients.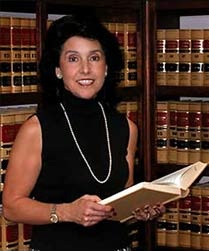 Barbara A. Casino, Attorney at Law
Barbara received her Doctorate in the Law from San Diego's Western State University in 1980. While at Western she was the Managing Editor of the Law Review.
Barbara started her professional career working as an insurance adjuster for many National Insurance Companies. However, her dream of becoming a lawyer (after reading about Portia in the Merchant of Venice) never left her and she decided to attend law school while working 40 hours per week.
Barbara Casino has successfully handled many difficult California and ERISA insurance claim cases. She has represented individuals with various disabilities including Lyme disease, fibromyalgia, multiple sclerosis, Parkinson's, and other disabling conditions. Barbara is an excellent listener and dedicated to assisting clients with understanding and support.
Ms. Casino resides in Del Mar, California with her husband and Golden Retriever. She and her husband are active supporters of Broadway San Diego, the San Diego Symphony, the Boys and Girls Club, Casa De Amparo, and the Helen Woodward Animal Shelter, where their dog Buddy served as a therapy dog.
Are you getting what you paid for or are you dealing with an insurance company that employs claims tactics similar to those outlined below?
Disability:
Unum Provident has been repeatedly chastised by judges for bad faith conduct in denying claims. In disability claims they target hard to prove illnesses such as fibromyalgia, chronic fatigue and depression for denial. Insurers look for excuses to deny; they employ biased medial examiners, destroy medical records and ignore evidence supporting claims.
Life insurance:
Life insurance may save your home, keep your kids in college, or pay for basic necessities when tragedy hits your family. When a loved one dies you expect your life insurance company to pay benefits. But this is not always the case.